Kalymnos, the island of the sponge divers
If you visit the island of Kalymnos and you don't get to meet a sponge diver or a player of the kalymnian bagpipe (tsambouna) it will be as if you only saw the island through cards-postal – although they could be amazing, like those of Nikolas Smalios.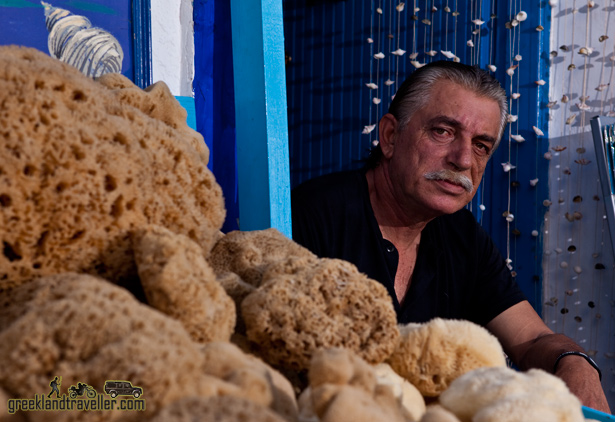 On our last of stay on Kalymnos, we took the road for the village of Vathys. Several of us had heard about the beauty of this port village that looks like a fiord while I, on my part, had found out that there I could meet one of the most respected bagpipe players of the island. By the time we got there it was midday and the street was full of tourists who were strolling and gazing at the little shops most of which were decorated with most famous product of the island: sponges!  Sponges of various irregular shapes and sizes. I too decided to have a look and there, at the first shop that I made a stop, I met Elias and I heard his story.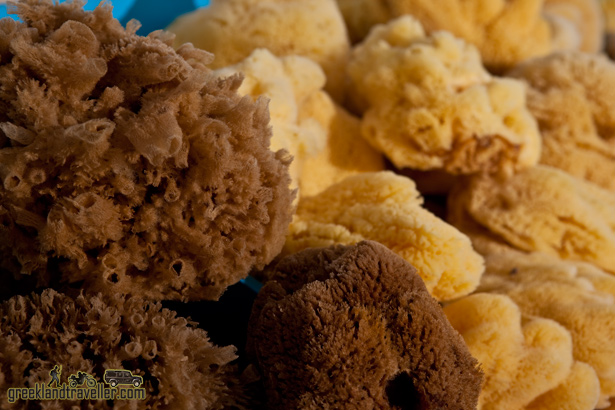 Elias was a toddler nearly when he entered the world of the sponge-diving. As soon as he finished the elementary school, at the age of 12, he followed his father and brother and started working on their fishing boat. The work was difficult and demanding, he says, their trips away from home would last 3-4 months and they had to dive to depths of up to 70 metres with only link to the surface the oxygen tube. When they would find sponges, their troubles were rewarded, but that wasn't always the case. Elias was struck by the 'sponge-divers disease' about 25 years ago and since then he had to give up the professional diving. Today he is 52 years old and he keeps with his family this little shop in Vathys, waiting for the tourists that visit the village to shop sponges for their personal care.  I bid goodbye to Elias and took on my other task, that of meeting in person and listening, if possible, a Kalymnian bagpipe-player. Elias had suggested the name of a well known musician, Nikolas Koutellas.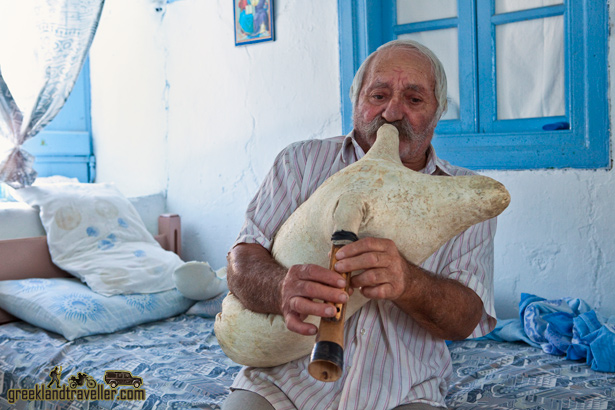 Mister Nikolas, in spite of his 80 years of age, he never misses the opportunity to grab his bagpipe and play in one of the most popular local festivals, like that of Dekapentavgoustos (August the 15th). Although when I met him, the old man was in a hurry to go to his herd of goats, he was as kind as to delay his work and sit and play a tune or two for me. His lady said I was of the rare few to have such an honour, as her husband seems to be well known about… following his own rhythm. Mister Nikolas blew air into the goats' skin until it filled and then began to play melodies of great beauty. A couple of times he gave a look at his watch, obviously worried about the animals waiting for him in vain, but still kept on, offering me 3-4 songs to take along with me, before he released the air from the old instrument and put it to rest in it bag.
There are few old musicians left nowadays, says the old shepherd and bagpiper, and there are even less young people interested to learn 'tsambouna' and the traditional songs. He is very proud of his own grandson who is of the best known craftsmen of bagpipes on the island. As for Mr Nikolas' older brother, Michalis Koutellas, he is a local legend of the bagpipe – unfortunately, he was at the time away from Kalymnos and I could not meet him.
About The Author
Related posts